What can you give to Grace Church?
Every activity in Grace Church is funded by the generous giving of people within Grace Church. If you consider this to be your church, please consider what you can do to contribute regularly to our church finances.
Each year the elders and trustees set a budget based on everything that we believe God is calling us to do. Your giving enables us to pay reasonable staff salaries, pay for all the venues that we meet in each week, run all of our ministries, activities and events throughout the year, and have plenty to give away to other charities and individuals in need.
We take up an offering each Sunday, and we encourage people to set up Standing Orders from their own bank account, so everyone can give regularly in a way that is planned and deliberate. Giving is not the 'unfortunate downside' of church life, but rather something to be celebrated, talked about without embarrassment, and a source of joy.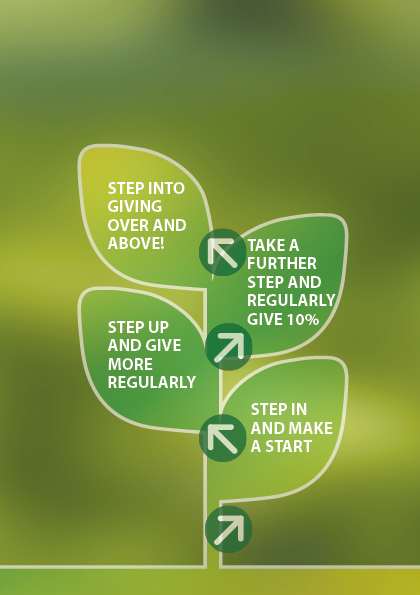 Here are four reasons to be happy about giving to Grace Church:
We do a lot of good with your money. Although we consider carefully what God is calling us to do each year, the simple fact is that the more money we receive, the more we are able to do. Take a moment to consider all the lives that are touched and people that are helped because of Grace Church. We are about a good thing.
It shows you are not alone. We are the body of Christ, united as one family to do the work of Jesus in our local community and beyond. Throughout the bible, giving was always a community event. It was an opportunity to come together as God's people. There are many worthy causes to give towards but giving into the local church shows that you are a vital part of Jesus' body. Thank God for church family!
There is blessing for you too. Is it really giving if you hope to get something in return? The bible says it is! God is such a generous provider that he promises not to be outdone when it comes to giving. Test that out for yourself!
You get to be like God. God is generous by his very nature. He is lavish, even extravagant in his giving to us. He is a God of amazing grace. There is a part of all of us that wants to keep a tight grip on our money – after all, we earned it! – but God gave up his own son that we might have life, and he continues to pour out blessing on his people. Become increasingly generous in your giving, and you become more like God. You are investing in your eternal future, and that has to be a good thing!
You can make a one-off gift to Grace Church by bank transfer, or by using card, cash or cheque on a Sunday morning. Even better, you can set up or review a Standing Order to Grace Church using the bank details below. Please remember to tell us if you are a UK taxpayer, so we can claim Gift Aid on your giving.


Sort code: 40-23-18
Account: 02136856